Driving Innovation and Growth

Acceleration & Innovation Mentors Program

Global Midwest Alliance has developed an Acceleration & Innovation Mentors Program (AIM) that provides entrepreneurs with three to five months of coaching from mentors who are experienced subject matter experts in their field. Mentors come from a variety of fields and industry backgrounds.  

Participating in the AIM Program gives participants the benefit of:

Obtaining one-on-one business coaching from an AIM Mentor

Takes participants through a disciplined, analytic process to identify and refine their business model

Presents the business opportunity to an appropriate panel of seasoned industry and business experts who will further provide guidance and advice

Participating in the Program

The AIM Program welcomes entrepreneurs facing any of a variety of challenges in commercializing their company's ideas, at virtually any stage of development:

Concept or prototype stage

The Process

AIM mentors provide a critical assessment of the proposed business, a gap analysis, coaching on presentation skills, direction and assistance in accessing the skills of various service providers, and introductions to others in the Alliance's vast network of members.  

The AIM Program is tailored to the needs of each AIM participant. Outcomes of the mentoring process often include:

Feedback on the commercial potential of technology or a business plan

Assistance with the development of a financial or market model

Development of strategic plan or go-to-market strategy

Evaluation of a management team or assistance with organizational management

Guidance on how to develop a compelling business presentation

Introductions to the Alliance's network of service providers

Development of a funding strategy

Access to the resources of the World Bank

Expert advice on a specific business challenge

The opportunity to present your business plan to a pre-screened panel of potential funders and strategic business partners

AIM mentors commit to devote reasonable time for an agreed period of up to six months. Mentors serve without compensation and are expected to provide their own computer, phone and office facilities. Mentors may not solicit participants to provide compensated services during the period of mentoring. However, by invitation at the discretion of the participant, a mentor may be invited to joint the participating company's management team after the mentoring period ends.

Mentors are not compensated and provide only educational support. Mentors do not make business decisions for participants. Accordingly, when participants are accepted into the AIM Program they are required to release from liability agree not to assert claims against any mentor or consultant any actual or claimed errors or other acts or omissions. Similarly, because the Alliance does not control or direct its mentors in connection with services they provide to participants or their businesses, participants release and agree not to assert claims against Global Midwest Alliance and its personnel.

Coordination by the Global Midwest Alliance

In addition to a mentor, the Alliance assigns a coordinator to each AIM participant during the process. The coordinator is the liaison between the AIM participant and the Alliance. The job of the coordinator is to assist the mentor in moving the participant along a critical path toward the mutually determined objective, as well as assisting in marshalling subject matter experts, obtaining meeting space and organizing panels for the participant's coaching sessions and final presentation.

AIM Participants

The Alliance welcomes requests from candidates who wish to participate in the AIM Program from all types of businesses, all types of technologies and industries, and at all stages of development. 

The key criteria are that:

The applicant must demonstrate a commitment of time and effort to the relationship with the potential mentor

GMA must be able to match the applicant and its business, challenges and objectives with a suitable Mentor

Above all, the applicable must demonstrate the capacity to be "coachable" (that is, be willing to consider the mentor's guidance and to work collaboratively with the Mentor

Enrolling in the Program

Prospective participants must fill out an application and provide some basic information about their business, the nature of the challenges the participant faces and the participant's objectives.

A group of mentors and coordinators reviews these applications and screens candidates that GMA believes it can assist through the AIM Program. One or more members of this review committee will then meet with the applicant to assess an applicant's needs and to determine the most appropriate next step, which can be (1) give the applicant feedback on what may be necessary steps before participating in a mentoring relationship; (2) set up a meeting with an individual mentor; or (3) present at a meeting in which a number of mentors are invited to attend to be matched with a mentor.

Once a relationship is formalized, the participant and mentor decide on the frequency and optimal structure for moving forward. Participants are expected to commit to an ongoing relationship with their mentors. They are expected to be professional, open and responsive to all mentors who work with them, with due regard for the volunteer nature of the mentor's commitment.  

Participants and/or mentors may contact the coordinator to alert them to any changes or issues that may arise during the mentor relationship, to request replacement of a mentor, or to request assistance from additional mentors.

Submission Guidelines

Please submit completed enrollment application and additional information which is outlined in the application guidelines to our offices at  
[email protected]
.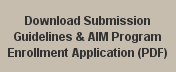 AIM Mentors

The Alliance has a network of experienced C-level executives who volunteer their time and expertise to work with AIM participants. We will do our best to match the needs and preferences of participants with mentors who possess the appropriate skill sets, experience and availability. 

Mentors abide by a Code of Conduct to assure that participants receive impartial and unbiased advice. Mentors are not expected to sign confidentiality, non-disclosure or non-compete agreements, however the Code of Conduct requires Mentors to maintain high standards of integrity with respect to the participants confidential information.

Mentors perform an initial intake discussion to determine compatibility with the participant. Mentors work with participants to do the following:

Assess the overall business and perform a gap analysis

Develop an analysis of the market

Build a business and financial model and marketing strategies

Connect with domain experts and service providers as needed

Assist in the development of a presentation and conduct coaching with the participant

Identify panelists (funders, business executives, consultants, etc.) to attend the final presentation

Consult regularly with participants regarding action plans and milestones next steps